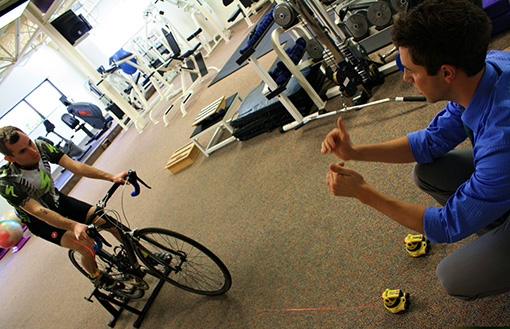 Knee Pain | IT Band Syndrome | Hand Numbness | Foot Pain
Lower Back Pain | Neck and Shoulder Pain | Saddle Numbness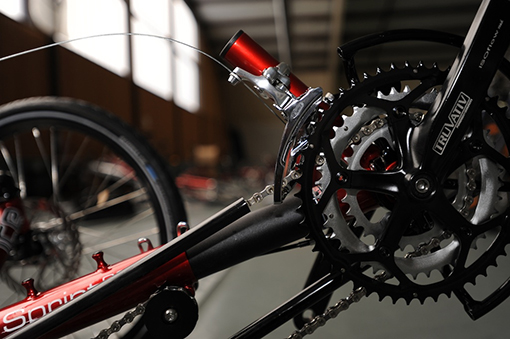 Ergonomic Bike Fitting

We fit your bike to your body.
Does pain prevent you from enjoying your rides? Do you want to feel less tired after your rides, or increase your speed or miles on your bike? An ergonomic bike fit will improve your cycling performance, and will treat or prevent cycling injuries.
What is an ergonomic bike fit?
A bike fit improves your body's posture, comfort, and alignment while you are riding your bike. You will bring your bike to our studio, and we will take care of the rest. First, we will take measurements of you and your bike while riding on a stationary trainer in our studio. Second, we will will make changes to your bike seat, handlebars, and your pedals. Lastly, we will provide you with a home exercise program that will help you adapt to the changes on your bike. A session takes one hour, and you will receive a complementary follow up session to fine tune any changes.
Why is an ergonomic bike fit at Bexley Chiropractic Clinic different?
As a chiropractor and a BikeFit pro, Dr Jeff Guindon specializes in the treatment and prevention of cycling injuries. We feel that his education and training allows him to address cycling injuries more thoroughly. He completed his bike fit training in Seattle, and has performed hundreds of bike fits in one of the most bike friendly cities in America.
What is the cost of an ergonomic bike fit?
The cost for a session is $200, and includes a complementary follow up session to fine tune any changes. If you have pain while you ride, or if you have a cycling injury, your health insurance may cover the cost of this session. Contact Bexley Chiropractic Clinic below for details.